Before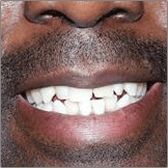 After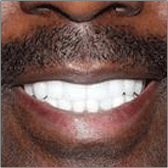 Porcelain veneers are thin wafers no thicker than a fingernail that a cosmetic dentist will bond to your tooth to give the tooth a whole new appearance and hide imperfections. Veneers can also be made of composite resin reinforced with quartz. Veneers are most commonly used on the upper front teeth, but can also be used on the lower and back teeth. Veneers are usually placed on the teeth in sets - this allows for a more even-looking smile. Individual teeth can be veneered; it just may be more difficult to match the natural color of the teeth.
In the first session your dentist will shape any chips or crooked edges and remove a small portion of the enamel on the teeth to make room for the veneers. In the second session, using composite resin cement, the veneers will then be fitted one by one to the front of your teeth to fashion your new smile. If the veneers need any subtle reshaping, this can be done in the same session.
Recovery time: Immediately.