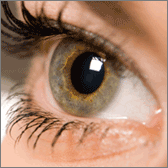 The cornea is the tissue on the very front of the eye. It is clear and covers the iris and pupil. It works with the lens to provide focusing power to the eye. If the cornea becomes opaque, swollen, or scarred, vision is compromised. Medication to control the damage to the cornea is usually the first line of treatment, but once it is clear that medication will not halt or alter the damage, a corneal transplant is considered. This surgical procedure involves the removal of the damaged tissue and replacement with a healthy, donated human cornea.
The transplant procedure involves removing the diseased or damaged tissue, then replacing it with the donor tissue. The entire operation is done under a surgical microscope. After taking measurements of the amount of tissue to be removed, the diseased cornea is cut and lifted away from the eye with a special round tool that works much like a cookie cutter called a trephine. Once the damaged tissue is removed, the donor cornea is cut to a matching size and placed on the patient's eye. It is held in place with very fine stitches using suture material that is about as thin as a hair.
Recovery time: The recovery period for corneal transplants is rather long. The stitches will remain in the eye for six to twelve months after the surgery.