Before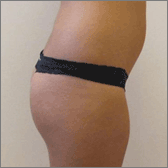 After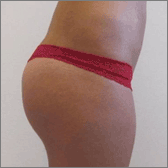 A buttock lift can improve sagging buttocks and remove excess thigh skin that has developed as a result of weight loss, aging, gravity, or genetics.
The result is a more flattering, toned butt and a sleeker thigh contour. Patients are often surprised by how much buttock lifts can significantly improve their thigh appearance as well, simply from the manual lifting of sagging skin around the buttock and hip areas.
The procedure is done in one of two ways. The first involves surgically removing excess skin and tightening the skin above the upper part of the buttocks to lift the buttocks. The second, often referred to as the Brazilian Butt lift, involves lifting the butt with fat injections or implants.
Recovery time: After the buttock lift, recovery from bruising and swelling should occur within the month following surgery. Patients usually need 6 weeks after surgery Sbefore attempting any strenuous activities and a full buttock lift recovery is generally complete about 4-6 months after surgery.