Before
After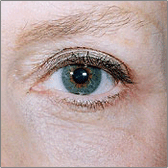 This procedure corrects drooping upper eyelids and puffy bags below the eyes by removing excess fat, skin, and muscle. Blepharoplasty can be performed in your doctor's office, an outpatient surgical facility, or a hospital.
It is generally performed under local anesthesia, but can be performed under general anesthesia. The surgeon places fine incisions in the crease above each eye to correct problems of the upper eyelids. Then a thin crescent of excess skin and muscle is removed. The incisions are closed with very fine sutures. To remove the fatty deposits beneath the eyes, the incisions are placed just inside the lower eyelid. After the fat is removed, the incisions may be closed with absorbable sutures or may be left to heal naturally. When excess skin and muscle need to be removed from the lower lids, the incisions are placed in the natural smile crease below the lash line.
The procedure can take between one and two hours, depending on the extent of the surgery.
Recovery time: 1 week to 10 days. The thin scars become almost invisible after a few months.