Before
After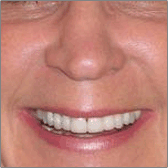 A bridge is made up of two crowns for the teeth on either side of the gap (caused by a missing tooth/teeth) with a false tooth/teeth in between. Bridges are cemented to the natural teeth or implants surrounding the empty space. These teeth, called abutments, serve as anchors for the bridge. A replacement tooth, called a pontic, is attached to the crowns that cover the abutments. As with crowns, you have a choice of materials for bridges.
Before either a crown or a bridge can be made, the tooth (or teeth) must be reduced in size so that the crown or bridge will fit over it properly. After reducing the tooth/teeth, your dentist will take an impression to provide an exact mold for the crown or bridge. Using this impression, a dental lab then makes your crown or bridge, in the material your dentist specifies. A temporary crown or bridge will be put in place to cover the prepared tooth while the permanent crown or bridge is being made. When the permanent crown or bridge is ready, the temporary crown or bridge is removed, and the new crown or bridge is cemented over your prepared tooth or teeth.
Recovery time: Aside from the time the procedure lasts, there is not a lot of recovery time associated with bridges.