Before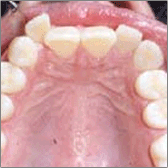 After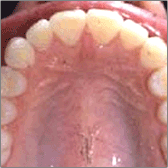 For those patients who dislike the look of metal braces, Invisalign® offers an excellent alternative. Invisalign aligners are composed of strong, clear plastic and are almost unnoticeable. Invisalign is a wonderful orthodontic option, providing straight, even teeth without the annoyance of wires and brackets.
Your dentist begins by taking dental impressions, X-rays and photographs of your teeth and sending them to Align Technology. A plaster mold is made and the mold is scanned into a computer creating a three dimensional model. Technicians then separate the teeth in the computer model and move them to their final position as prescribed by the orthodontist. Custom software then simulates the movement of the teeth in stages. The orthodontist reviews the simulation online via the Internet and approves the treatment. Once approved a plastic resin aligner is manufactured for each stage of the computer simulation and shipped to the orthodontist. Average treatment time is less than a year, again depending on the complexity of the treatment.
Recovery time: Aside from the time the procedure lasts, there is no recovery time associated with Invisalign.