Dermabrasion
Before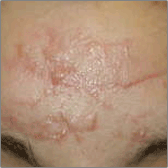 After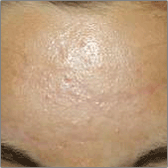 Dermabrasion is a procedure that is used to smooth fine wrinkles and scars left by acne or previous surgery. It involves controlled surgical scraping that 'refinishes' the top layers of the skin to give a smoother appearance. Dermabrasion can be performed over the full surface of the face or on small areas, and may be done in conjunction with other cosmetic procedures such as a facelift or face peel. Dermabrasion is not an appropriate treatment for some people.
Microdermabrasion is a lighter form of dermabrasion known as the "lunchtime facial", and removes only the topmost layer of skin to reveal fresh skin underneath. While microdermabrasion may not reveal results as dramatic as laser resurfacing it is an effective way to freshen up your skin and achieve a healthier, younger looking appearance.
Recovery time: You will experience swelling and sensitivity in your skin for several week, which will be bright pink. During this time you can gradually resume your normal activities. There is no recovery time after the microdermabrasion procedure.