Before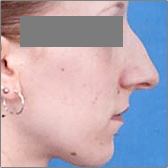 After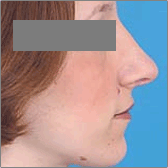 Rhinoplasty is a surgical procedure used to reshape the nose, and is one of the most common of all plastic surgery procedures. Rhinoplasty can reduce or increase the size of your nose, change the shape of the tip or the bridge, narrow the span of the nostrils, or change the angle between your nose and your upper lip. It may also correct a birth defect or injury, or help relieve some breathing problems.
Rhinoplasty usually takes an hour or two, though complicated procedures may take longer. During surgery the skin of the nose is separated from its supporting framework of bone and cartilage, which is then sculpted to the desired shape. The nature of the sculpting will depend on your problem and your surgeon's preferred technique. Finally, the skin is re-draped over the new framework. When the surgery is complete, a splint will be applied to help your nose maintain its new shape. Nasal packs or soft plastic splints also may be placed in your nostrils to stabilize the septum, the dividing wall between the air passages.
Recovery time: 1 to 2 weeks.