Permanent Makeup
Before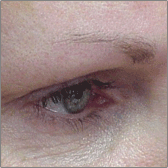 After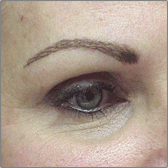 Permanent makeup is possible through a procedure called micropigmentation, which is similar to tattooing. It can mimic eyeliner, eyebrow pencil, lip liner, and lipstick. When performed by a trained medical professional, permanent makeup can appear natural and attractive.
Permanent makeup is ideal for on-the-go women who always need to look their best but cannot afford the time to apply makeup throughout the day. At the end of the day, your makeup looks as though it was just freshened. You can select your colour of makeup from a wide variety of shades, or a new shade can be created for you.
A nurse or other trained medical professional will use a tattoo pen to inject permanent ink into your skin.
Recovery time: Immediately.