Before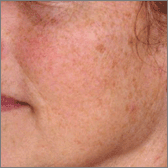 After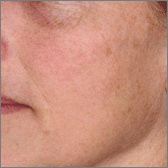 For many people, looking great is a simple matter of a skin rejuvenation treatment for pigment and vessel clearance to reveal clearer, more attractive skin. Laser Skin Resurfacing achieves this using laser to deliver energy to target and destroy vascular and pigmented lesions associated with spider veins, reticular veins, rosacea, telangiectasias, hemangiomas, sun damage, age spots, dyschromia, melasma, poikiloderma, and angiomas from hands, legs, chest, arms and face.
The two types of lasers most commonly used in laser resurfacing are carbon dioxide (CO2) and erbium. Each laser vaporizes superficial, damaged skin cells and both reduce the risk for the patient because they limit the amount of heat absorbed by the skin.
Recovery time: Up to two weeks.