Collagen Injections
Before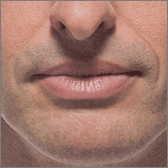 After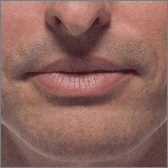 Collagen is the main protein found in connective tissue and supports the skin, bone, cartilage and blood vessels. Collagen composes up to 80 percent of the skin and its role is to maintain the skin's integrity, but collagen breaks down with advancing age. The breakdown of collagen during the aging process can lead to wrinkles, lines and folds. Collagen injections replenish the skin's natural collagen.
Collagen injections are typically performed in the doctor's office. Some require an allergy test prior to the first treatment. They are most often performed without anesthesia, although the collagen filler itself contains lidocaine, which is a local anesthetic. Collagen is injected with a tiny needle into the skin depressions. Several injections may be needed, depending on the length and depth of the wrinkle. The procedure takes less than an hour.
Recovery time: Results are immediate. There may be some redness for the first 24 hours and this could last up to a week.