Cataract Surgery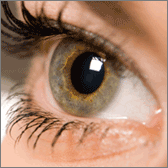 A cataract is an opacity or cloudiness in the natural lens of the eye. The development of cataracts in the adult is related to aging, sunlight exposure, smoking, poor nutrition, eye trauma, systemic diseases, and certain medications such as steroids.
This opacity in the natural lens of the eye can result in a blurred image. Patients with cataracts usually complain of blurred vision either at distance, near, or both. This may interfere with tasks such as driving or reading. Other common complaints include glare, halos, and dimness of color vision.
A tiny incision is made in the eye. Through this incision, the surgeon inserts an instrument, about the size of a pen tip. The surgeon may select to use either an AquaLase® device, which uses gentle pulses of liquid to wash away your cloudy lens, or an ultrasonic instrument that breaks up and gently removes your cloudy lens. Once the clouded lens has been removed, the next step is to replace it. That is, to implant an artificial lens that will do the work of your own lens. This artificial lens is referred to as an intraocular lens or IOL.
Recovery time: Varies from 4 to 10 weeks.