Bonding
Before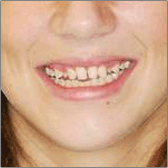 After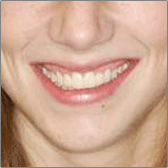 Dental bonding is a procedure in which a tooth-colored resin material (a durable plastic material) is applied and hardened with a special light, which ultimately "bonds" the material to the tooth to restore or improve a person's smile.
The surface of the tooth will be roughened and a conditioning liquid applied. These procedures help the bonding material adhere to the tooth. The tooth-colored resin is then applied, molded and smoothed to the desired shape. An ultraviolet light or laser is then used to harden the material. After the material is hardened, your dentist will further trim and shape it, and polish it to match the sheen of the rest of the tooth surface.
Recovery time: Immediately.