Before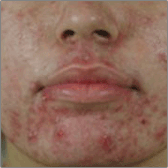 After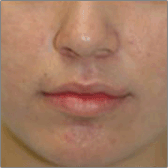 Acne is a skin condition that affects up to 80% of the population in their teens and twenties, and approximately 5% of adults. While many of us recover from acne without scarring, some people are left with severe disfiguring scars on their face, neck and back.
Thankfully, there are some acne treatment options available that can help to reduce the visible signs left behind after acne like:
Autologous fat transfer: Autologous fat transfer, or fat grafting, uses your own fat drawn from an inconspicuous area on your body and reinserts it under a pitted acne scar to add volume. Also used in wrinkle treatment and to add volume to lips, this is a safe method to even out acne scars. Because the filler is from your own fat, there is no chance of allergic reaction, and no pre-testing needed.
Punch grafts: To treat deep, pitted acne scars, punch grafts are used to replace the old skin with new. The scarred skin is first removed or punched out using a special tool, and then new skin is taken from another part of the body and grafted on top to give the scar a new surface. The new skin is then taped onto the scar area for five to seven days to allow it to heal. The new skin will form a new scar; however the result will be improved from the acne scar.
Microdermabrasion: Used to help with other skin rejuvenation, dermabrasion and microdermabrasion can help acne scar sufferers.
Read more about Dermabrasion.
Chemical peel: There are different strengths of chemical peeling treatments used to treat acne scars. Using chemical solutions, chemical peels remove layers of the skin to help promote new cell growth and ultimately to remove the layers of scarring.
Read more about Chemical peel.
Laser skin resurfacing: Using a combination of carbon dioxide and one of the many different types of lasers, laser skin resurfacing removes the topmost layers of the skin. Laser skin rejuvenation has long been in use to treat wrinkles and age spots, and acts as a safe and effective acne scar treatment.
Read more about Laser resurfacing.
Recovery time: Depends on the treatment.