Dr. Ashwani K. Singh
Dr. Ashwani K. Singh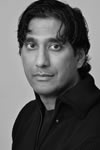 CosMedics represents a fusion of cosmetic services and medical science.
About Our Practice
We specialize in: advanced skin care, anti-aging treatments, skin resurfacing, and microdermabrasion. In additional to these services we are also well known as a acne clinic and a laser hair removal clinic. Our physcians and technicians are extensively experienced in acne treatments and offer the latest and most effective solutions to treat acne.
A Message from Dr. Ashwani K. Singh
We want our practice to feel like "home," to be a welcoming place where healing and enhancement are possible. To become more familiar with us, you can review the following resources about our Edmonton clinic and medi spa:
-Explore Our Facility. With a clinic on one side and a medil spa on the other, you can explore a wide array of services without leaving our comfortable and soothing atmosphere.
-Press Room. Read what the media has to say about our practice.
-Charity. At CosMedics, we're passionate about our charity work. Both domestic and abroad, our efforts further the quality of healthcare for underserved groups.
Most Popular Procedures
Accent™ Skin Tightening,
Acne Clinic in Edmonton,
Acupuncture,
Cellulite Treatments,
Chemical Peels & Microdermabrasion,
Contour Threadlift,
Coolsculpting Fat Loss Treatment,
Eyelash Enhancement,
Focal Injections for Hyperhidrosis,
Focal Injections for Migraines,
Focal Injections for TMJ Pain,
Homeopathic Services,
Injectable Fillers,
Laser Hair Removal,
Laser Skin Rejuvenation,
Lip Enhancement,
Massage,
Mole & Sunspot Removal,
Non-surgical Neck and Jawline Lift,
Photofacials (IPL),
Skin Care Products,
Soft Lift™,
Stretch Mark & Scar Treatment,
Vein Treatment,
Weight Loss: Ideal Protein®,
Wrinkle Smoothing Injectable,
Yoga,
ZERONA® - Laser Lipolysis
Map
About Dr. Ashwani K. Singh
Education
Dr. Ashwani Singh is the Director of CosMedics and a doctor at our Edmonton skin care clinic. He completed his undergraduate degree in the Faculties of Business and Science at the University of Alberta. He graduated from the Faculty of Medicine at the University of Alberta in 1991. He completed his post-graduate residency at the Montreal General Hospital at McGill University.
He has been in private practice since 1993 and furthered his skills as a surgical assist with the Department of Plastic Surgery at the Misericordia and the Royal Alexandra Hospitals from 1996 to 2000.
Before & After Photos
Coming soon
Patient Financing
: Dr. Ashwani K. Singh

Medicard offers a simple and affordable way to finance your medical care and allows you to immediately acquire the care you desire. The ideal alternative to writing a cheque. Medicard's patient financing programs ensure that you don't delay your treatment due to cost concerns by offering you a variety of financing terms with convenient monthly payments. We will pay your doctor or service provider in full now and you can repay us in affordable monthly payments.

Apply for financing online. It's easy!
How Medicard Works?
No down payment
No collateral
High approval
Competitive interest rates
No early payment penalty
And more ...
Flexible
You can request financing for a portion or Medicard will finance the complete procedure or purchase.
Fast
Most client's applications are quickly approved for funding - in fact, financing can be approved while you are at your doctor or service provider's office!
Friendly
Medicard's professional and experienced staff is committed to helping patients obtain financing. Contact us if you have any questions or if we can be of assistance.
---
Easy Steps to Apply for Financing
Medicard can pre-approve an approximate amount. This allows you the flexibility to choose your physician, service provider, procedure, product purchase or procedure date with the comfort of knowing that financing has been confirmed.
Choose how much money you would like to finance.
Choose to finance the whole procedure, or just a portion.
Choose your ideal terms: 6 months, 1, 2, 3, 4, 5, or 6 years.
②
Medicard will notify you of the credit decision by phone.
Sign and return the required documents and a void cheque to Medicard.
③
Medicard sends payment automatically to your doctor or service provider.
Your monthly payment is electronically debited from your chequing account.
Get the product or treatment you want now!
Contact Dr. Ashwani K. Singh
indicates a required field.
Contact Information
11526 Jasper Ave.
Edmonton, AB
T5K 0M8
Phone :
780-428-9333
Fax :
780-414-6412