Dr. Stephanie Power
Dr. Stephanie Power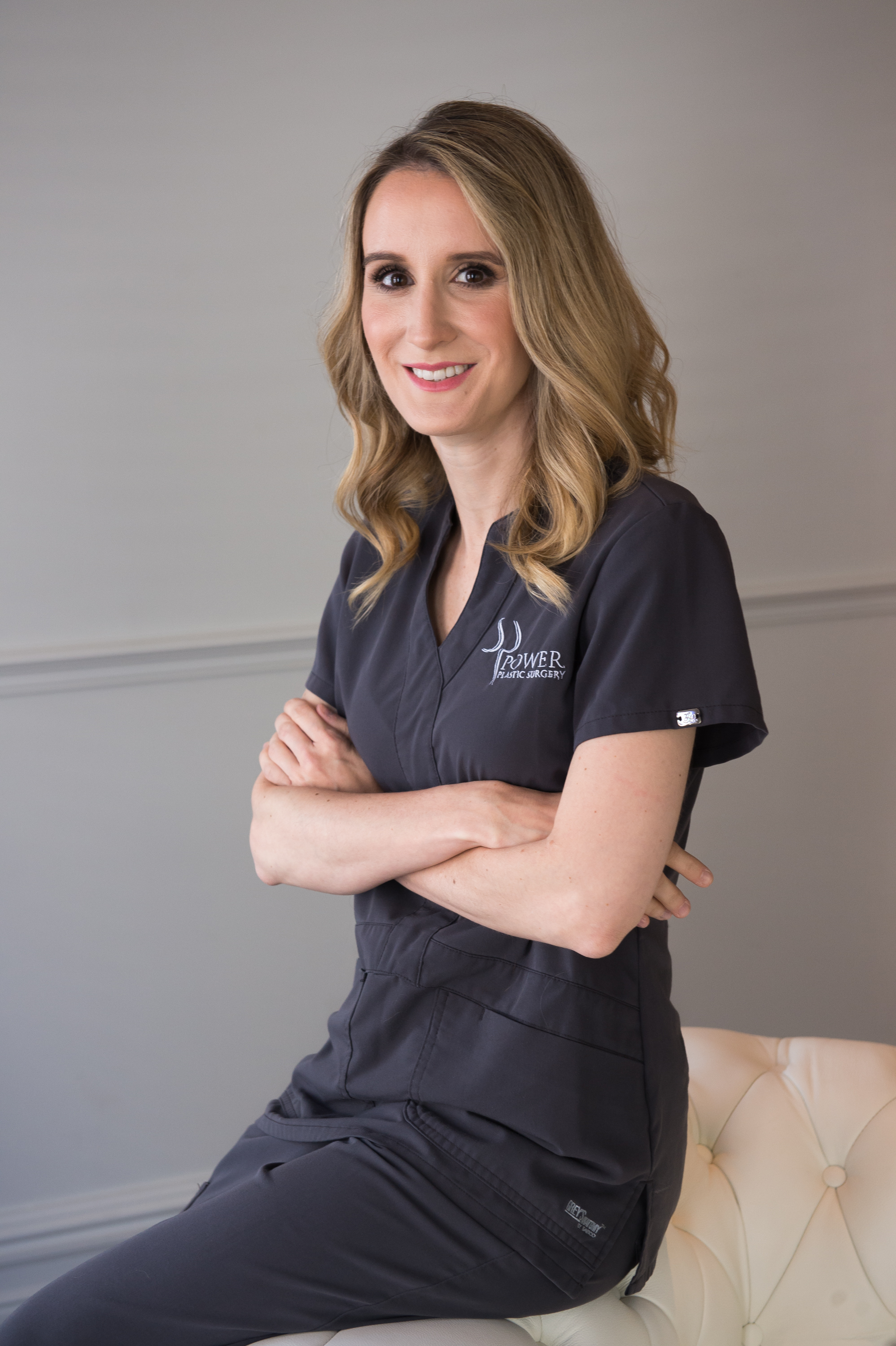 This boutique plastic surgery practice focuses on one-on-one care and has all-female staff. Dr. Power personally performs all surgeries and non-surgical procedures in her practice. Every aspect of pre-operative planning is discussed between patient and surgeon. Every follow up visit is also performed by Dr. Power alone. There are no patient care coordinators or nurse injectors. Each patient is given Dr. Power's contact information post-operatively and encouraged to call her directly if concerns arise at any time. Her focus is optimizing patient care and safety to achieve the best plastic surgery results.
About Our Practice
Our goal at Power Plastic Surgery is to apply our surgical and artistic expertise to help you achieve your cosmetic goals. We commit to deliver highest quality care in a safe, secure, and optimally equipped facility. Through our emphasis on patient education and collaboration, we enable patients to make informed decisions. Dr. Power continually incorporates advances within the field and brings a feminine and fresh perspective to plastic surgery.
A Message from Dr. Stephanie Power
Dr. Power is one of only a few female cosmetic surgeons in Toronto. Her practice focuses on the female body and facial aging. Dr. Power understands the sensitive nature of cosmetic surgery and is attuned to patients' concerns.
Let's consider what happens during a plastic surgery consultation. For many patients considering plastic surgery, this reflects years of feeling insecure about a given body feature. You then meet a complete stranger and have to expose yourself physically for the clinical examination and emotionally by discussing your greatest body insecurities. It can be a stressful experience for many individuals. Dr. Power understands this and strives to make all patients feel comfortable. Many male patients have also expressed preference to see a female plastic surgeon, feeling quite at ease and open regarding their concerns.
Dr. Power believes that smaller plastic surgery practices offer the best patient care and plastic surgery experience. Surgery does not end when the patient is taken to the recovery room post-operatively. It is important to maintain excellent communication and close follow up as healing occurs. Dr. Power is exclusively involved in every step of patient care. Her unique artistic background and meticulous surgical skills enable her patients to achieve the best aesthetic outcomes.
Most Popular Procedures
Common procedures include plastic surgery focusing on the female body (breast augmentation, tummy tuck, and labiaplasty) as well as a special interest in facelift surgery.
Face Procedures: Browlift, Chin Augmentation, Eyelid Surgery, Facelift and Neck Lift, Fat Grafting, Lip Augmentation, Otoplasty – Ear Surgery, Rhinoplasty
Breast Procedures: Breast Augmentation, Breast Implant Revision, Breast Lift (Mastopexy), Breast Lift with Implants, Gynecomastia Correction, Minor Breast Procedures
Body Procedures: Tummy Tuck, Liposuction Procedure, Arm Lift (Brachioplasty), Body Contouring, Brazilian Buttock Lift, Labiaplasty, Mommy Makeover, and Thigh Lift
Minor Body Procedures: Cosmetic removal of moles, cysts, and lipomas, scar Revision
Non-Surgical Procedures: Botox, Latisse Eyelash Growth Enhancer, Soft Tissue Fillers such as Juvederm
Map
About Dr. Stephanie Power
Dr. Power is one of only a few female cosmetic surgeons in Toronto. Her practice focuses on the female body and facial aging. Dr. Power understands the sensitive nature of cosmetic surgery and is attuned to patients' concerns. Dr. Power completed fellowship training in Aesthetic Surgery following residency in Plastic and Reconstructive Surgery. She also completed several cosmetic surgery electives in Boston and New York City during training and regularly attends cosmetic surgery meetings to offer her patients the latest techniques and procedures.
Education
Dr. Power completed her undergraduate degree with honors at Princeton University (Princeton, NJ, USA). She completed premedical courses while concentrating in Music and also achieved a Certificate in Musical Performance. Her fine technical skills as an Ivy League trained flutist and artistic background have translated into her plastic surgery practice.
She then completed her MD and plastic surgery residency at the University of Western Ontario (London, ON). She was the first plastic surgery resident to enroll in the UWO Clinician Investigator Program and completed an MSc in Medical Biophysics during her surgical training. Having achieved board certification in Plastic Surgery (FRCSC, 2013), she moved to Toronto and completed two fellowships in Aesthetic Surgery and Trauma & Reconstructive Surgery at the University of Toronto. She subsequently opened her private practice at the prestigious 199 Avenue Road in Yorkville and maintains a busy reconstructive practice with a focus on skin cancer.
Affiliations
The Royal College of Physicians and Surgeons of Canada
Ontario Medical Association
Awards & Achievements
UWO Plastic Surgery Research Day, McFarlane Resident Research Award, Best Research Presentation, 2009, 2010, and 2012
Physicians' Services Incorporated Foundation Resident Research Award, 2011
UWO Plastic Surgery Research Day, Best Basic Science Research Award, 2011
UWO Department of Surgery Research Day, Best Research Paper Award, 2009 and 2010
UWO Paediatrics Research Day, Best Clinical Paper, 2006 and 2010
Paul Black Junior Investigator Award, American Cleft Palate-Craniofacial Association, Best Clinical Paper, 2006
Dean's Honor List, UWO Faculty of Medicine
Before & After Photos
Coming soon
Patient Financing
: Dr. Stephanie Power

Medicard offers a simple and affordable way to finance your medical care and allows you to immediately acquire the care you desire. The ideal alternative to writing a cheque. Medicard's patient financing programs ensure that you don't delay your treatment due to cost concerns by offering you a variety of financing terms with convenient monthly payments. We will pay your doctor or service provider in full now and you can repay us in affordable monthly payments.

Apply for financing online. It's easy!
How Medicard Works?
No down payment
No collateral
High approval
Competitive interest rates
No early payment penalty
And more ...
Flexible
You can request financing for a portion or Medicard will finance the complete procedure or purchase.
Fast
Most client's applications are quickly approved for funding - in fact, financing can be approved while you are at your doctor or service provider's office!
Friendly
Medicard's professional and experienced staff is committed to helping patients obtain financing. Contact us if you have any questions or if we can be of assistance.
---
Easy Steps to Apply for Financing
Medicard can pre-approve an approximate amount. This allows you the flexibility to choose your physician, service provider, procedure, product purchase or procedure date with the comfort of knowing that financing has been confirmed.
Choose how much money you would like to finance.
Choose to finance the whole procedure, or just a portion.
Choose your ideal terms: 6 months, 1, 2, 3, 4, 5, or 6 years.
②
Medicard will notify you of the credit decision by phone.
Sign and return the required documents and a void cheque to Medicard.
③
Medicard sends payment automatically to your doctor or service provider.
Your monthly payment is electronically debited from your chequing account.
Get the product or treatment you want now!
Apply now
Get the treatment or
product you want

today!
Toronto

160 Bloor Street East
Toronto, ON
M4W 1B9
Québec

2470 Dalton Avenue
Québec, QC
G1P 3X1
Vancouver

302-535 Thurlow Street
Vancouver, BC
V6E 3L2